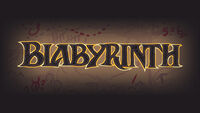 •  Release Date: Soon!
---
 •  Genre: Multiplayer escape room
---
 •  Developer:
Sleeping Beast Games
---
 •  Country of Origin: Canada
---
 •  Website:
http://blabyrinth.com
---
 •  Twitter:
https://twitter.com/hengineer
---
 •  Facebook:
https://www.facebook.com/blabyrinthgame
---
 •  YouTube:
https://www.youtube.com/user/SleepingBeastGames
---
About Sleeping Beast Games
---
Design & Programming - Henry Smith
Art - Sam Ballard
Sound & Music - Philippe Lachance

Developer Bio
---
Henry quit his BioWare programming job in 2012 to go indie. His first game was cooperative shouting game Spaceteam which took him on lots of fun adventures. Now he is combining the local co-op dynamic with his love of puzzles to create an infinite number of escape rooms!
Blabyrinth is a title featured at IndieCade Festival 2019.
About Blabyrinth
Blabyrinth is a multiplayer escape room that changes every time you play! Explore a mysterious labyrinth with your friends. Find cryptic clues and secret passages, solve puzzles, and escape with the treasure. 2–4 players on iOS or Android.
Trailer