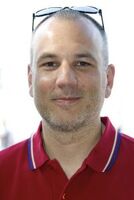 •  Name: John Sharp
---
 •  Title: Associate Professor of Games and Learning
---
 •  Affiliation: School of Art, Media and Technology at Parsons School of Design
---
 •  Website:
http://heyimjohn.com/
---
John Sharp has been a speaker at IndieCade events.
About John Sharp
John Sharp is a designer, art historian, curator and educator with over twenty five years of involvement in the creation and study of art and design. He is a member of the game design collective Local No. 12, which focuses on games as a research platform. John is also the Associate Professor of Games and Learning in the School of Art, Media and Technology at Parsons School of Design at The New School where he co-directs PETLab (Prototyping, Education and Technology Lab). He has four books: Works of Game: On the Aesthetics of Games and Art (MIT Press, 2015), Games, Design & Play: A Detailed Approach to Iterative Game Design (co-authored with Colleen Macklin, Addison-Wesley Professional, 2016); Fun, Taste and Games (co-authored with David Thomas, 2019) and Iterate: Ten Perspectives on Design and Failure (co-authored with Colleen Macklin, MIT Press, 2019). John' curation work includes "Spacewar!: Video Games Blast Off" (Museum of the Moving Image, 2012); co-curation of "XYZ: Alternative Voices in Game Design" (Museum of Design Atlanta, 2013); and "A Whole Different Ball Game: Playing through 60 Years of Sports Video Games" (Museum of the Moving Image, 2018). From 2010-15, John worked with IndieCade as co-curator of the professional conference.