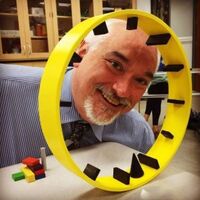 •  Name: Jonathan Cassie
---
 •  Title: Director of Curriculum and Innovation
---
 •  Affiliation: TVT Community Day School, Irvine, CA
---
 •  Website:
http://www.joncassie.com/
---
Jonathan Cassie has been a speaker at IndieCade events.
About Jonathan Cassie
Jonathan Cassie, Ed.D., is the Director of Curriculum and Innovation at TVT Community Day School in Irvine, CA. In a more than twenty year independent school career, he has served as a high school principal, dean of students, History department chair and as a teacher of History, English, Latin, Game Design and Entrepreneurship. His book, "Level Up Your Classroom" was published in 2016. He writes regularly for the tabletop roleplaying game market as well. His most recent book for that market, "Folkways" is a book about building meaningful cultures for players and gamemasters. It is available through www.drivethrurpg.com.