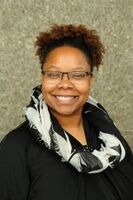 •  Name: Kishonna Gray
---
 •  Title: Assistant Professor
---
 •  Affiliation: Department of Communication and Gander and Women's Studies at University of Illinois at Chicago
---
 •  Website:
https://www.kishonnagray.com
---
Kishonna Gray has been a speaker at IndieCade events.
About Kishonna Gray
Dr. Kishonna L. Gray is an assistant professor in the Department of Communication and Gender and Women's Studies at the University of Illinois at Chicago. She is also a faculty associate at the Berkman Klein Center for Internet and Society at Harvard University. She also previously served as a MLK Scholar and Visiting Professor in Women and Gender Studies and Comparative Media Studies at Massachusetts Institute of Technology (MIT). Dr. Gray is an interdisciplinary, intersectional, digital media scholar whose areas of research include identity, performance and online environments, embodied deviance, cultural production, video games, and Black Cyberfeminism.
Dr. Gray is co-editor of two volumes on culture and gaming. Feminism in Play (2018, Palgrave-Macmillan) focuses on women as they are depicted in video games, as participants in games culture, and as contributors to the games industry. Woke Gaming (2018, University of Washington Press) illustrates the power and potential of video games to foster change and become a catalyst for social justice.
Her current book project is entitled "Intersectional Tech" and focuses on the transmediated experiences of Black users in digital environments.