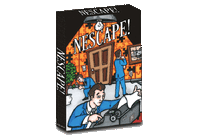 •  Release Date: Kickstarter launched on May 15, 2019
---
 •  Genre: Escape Room
---
 •  Store Page:
https://www.khangames.com/online-store/NEScape-p141422630
---
 •  Developer:
KHAN Games
---
 •  Country of Origin: United States
---
 •  Website:
https://www.khangames.com
---
 •  Twitter:
https://twitter.com/atonofglaciers
---
 •  Facebook:
https://www.facebook.com/khangames1/
---
 •  YouTube:
https://www.youtube.com/user/mewithoutYou52
---
 •  Instagram:
http://instagram.com/khanley52
---
About KHAN Games
---
Programming - Kevin Hanley
Graphics - Jon Piornack
Music - Travis Nelson
Story Consultant - Kyndal Howard

Developer Bio
---
Kevin Hanley chose to move to Dallas, Texas in 2008, right as the US economy was on the decline. Finding himself unemployed and in a new city, Kevin began to seek out employment, only to find that seemingly no one was hiring. Rather than slip into a dark depression having not gotten any callbacks for interviews, Kevin stumbled upon a series of online tutorials dubbed "Nerdy Nights", written by someone who would later become one of his very good friends, Brian Parker.

Nerdy Nights were tutorials designed to teach the reader how to program for the original Nintendo Entertainment System. Having no previous programming experience, Kevin was intimidated, but wanted to keep his mind occupied in whatever way he could. He pushed through the tutorial lessons one at a time, trying to not allow the overwhelming stress consume him. He needed to focus his efforts into a first project so that he had a tangible goal. He chose to take one of his favorite games, the arcade game Frogger, and attempt to recreate it for the NES, as that game had somehow never been ported to the system.

Asking Brian numerous questions along the way, eventually Kevin was successful. In the decade since Ultimate Frogger Champion was released, Kevin has made a name for himself having ported many of his other favorite games to the NES, including the original Leisure Suit Larry and cult favorite Atari 2600 game, Sneak 'n Peek. He has been featured in many publications including Nintendo Force Magazine, Wired Magazine, IGN, The New 8-Bit Heroes documentary, and the upcoming horror film, BITS.

His latest project is an elaborate escape room game entitled NEScape! that is designed to work with the Super Nintendo mouse by way of an adapter on the NES. It was released in 2019.
NEScape! is a title featured at IndieCade Festival 2019.
About NEScape!
NEScape! is a mystery escape room game created for the Nintendo Entertainment System (NES) by KHAN Games.
Developed and programmed by Kevin Hanley, the graphics were done by Jon Piornack, music by Travis Nelson, and story and puzzle consultation by Kyndal Howard. It was released in 2019, debuting on Kickstarter in May of 2019.
Planning on NEScape! began in late September 2018 by Kevin Hanley & Kyndal Howard. The ideas were presented to Jon Piornack on October 11, 2018, when he began work on graphics. Travis Nelson submitted his first batch of music on November 13, 2018. The first chapter was completed and a demo debuted at MAGFest in National Harbor, Maryland on January 3, 2019. Upon return from the expo, development resumed and continued until the game was considered complete on March 15, 2019, the day it was submitted to IndieCade (The International Festival of Independent Games).
The Kickstarter campaign raised over $15,000 in the first 24 hours of its launch, and went on to raise almost $40,000 by the end of the 30 days.
NEScape! is unique in the fact that it is designed to optionally be played with the Super Nintendo mouse, originally packaged with Mario Paint.
Trailer
Screenshots
Extras
[1] - Kickstarter Campaign Page